Intermediate Bulk Containers (IBC)
From Cargo Handbook - the world's largest cargo transport guidelines website
Infobox on Intermediate Bulk Containers (IBC)
Example of Intermediate Bulk Containers (IBC)

Facts
Origin
-
Stowage factor (in m3/t)
-
Humidity / moisture
-
Ventilation
-
Risk factors
-
Intermediate Bulk Containers (IBC)
Description / Application
An Intermediate bulk container (IBC) is a container used for transport and storage of fluids and bulk materials. The construction of the IBC container and the materials used are chosen depending on the application, i.e. there are various types available in the marke:

Plastic composite IBC Container
Steel IBC Container
Stainless steel IBC Container


Stainless Steel IBCs
Stainless Steel IBCs consist of a frame in which a cubical or cylindrical container is enclosed. They can be used for Transport and Storage of liquid and granulate substances (e.g. chemicals, food, cosmetics and pharmaceuticals). These IBCs have a volume range that is situated between drums and tanks (500 litre to 3000 litre - therefore "intermediate"). The Cubic IBCs give a particularly good utilisation of storage capacity.

Stainless steel can be cleaned easily and residue-free because with stainless steel there is no diffusing of product into the container wall. Therefore Stainless Steel IBCs can be used for application with frequent change of product and as aseptic food containers. Also these properties make recycling unproblematic.

Stainless Steel IBCs have a lifetime of sometimes more than 20 years. If Metal IBCs have an approval for the transport of dangerous goods this can be renewed by regular inspection by a competent person.

There are many advantages of the IBC concept:

They are generally cubic in form and therefore can transport more material in the same area than cylindrically shaped containers and far more than might be shipped in the same space if packaged in consumer quantities.
Composite IBCs rely on plastic liners that can be filled and discharged with a variety of systems.
The manufacturer/processor of a product can bulk package a product in one country and ship to many other countries at a reasonably low cost where it is subsequently packaged in final consumer form in accordance with the regulations of that country and in a form and language suitable for that country.


IBCs range in size but are generally between 700 and 2,000 mm (27.6 and 78.7 in) or 46 to 52 in (1,168 to 1,321 mm) in height. The length and width of an IBC is usually dependent on the pallet dimension standard of a given country.

IBCs may have pallet-like bases so that forklifts can move them.

It is common for IBCs to be able to fold down into a compact profile, reducing their height for transportation and storage when empty. IBCs in almost all cases can be stacked vertically.

Depending on the size of the IBC, it can weigh between 90 and 1,200 kg (198 and 2,646 lb).

IBCs may ship and store:

Bulk chemicals including hazardous materials or dangerous goods if the IBC is proven suitable
Components
Powder
Some liquid food products, such as sugar
Soaps and glues
Some foods
Rainwater for harvesting
Live fish in an aquaponics gardening system


Flexible Intermediate Bulk Container
A Flexible Intermediate Bulk Container', FIBC, big bag, bulk bag', Jumbo bags is a container in large dimensions for storing and transporting dry, flowable products, for example sand, fertilizers, and granules of plastics.

FIBCs are most often made of thick woven polyethylene or polypropylene, either coated or uncoated, and normally measure around 110 cm or 45-48 inches in diameter and varies in height from 100 cm up to 200 cm or 35 to 80 inches. Its capacity is normally around 1000 kg or 2000 lbs, but the larger units can store even more. The average bulk bag made to ship one metric ton can weigh between 5-7 lbs.

Transporting and loading is done on either pallets or by lifting it from the loops. Bags are made with either one, two or four lifting loops. The single loop bag is suitable for one man operation as there is no need for a second man to put the loops on the loader hook. Emptying is made easy by a special opening in the bottom such as a discharge spout, of which there are several options, or by simply cutting it open.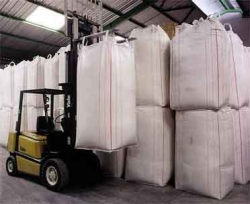 Classification of FIBCs
Construction

U-Panel construction
Circular/Tubular construction
Baffle construction
Four side panel construction
Round construction


Lifting options

Cross corner lifting loops
Corner lifting loops
Four loops
Two loops
Sling loops


Electrostatic properties

Type - A - no special electrostatic safety features
Type - B - Type B bags are not capable of generating propagating brush discharges. The wall of this FIBC exhibits a breakdown voltage of 4 kilovolts or less.
Type - C - Conductive FIBC. Constructed from electrically conductive fabric, designed to control electrostatic charges by grounding. A standard fabric used contains conductive threads or tape.
Type - D - Anti-static FIBCs, essentially refers to those bags which have anti-static or static dissipative properties without the requirement of grounding.


Industries Served

Fertilizers
Fiberglass
Food Products
Grains
Mining (Used to hold shotcrete)
Pharmaceuticals
Refractories
Rubber Additives
Seed
Starch
Wall coat powder


Flexitank
A Flexitank is a bladder that is specifically designed to fit inside a 20' general freight container, which converts that freight container into a non-hazardous bulk liquid transportation unit. Single-layered flexitanks are constructed from 1 mm thick polyethylene, whereas multi-layered flexitanks are constructed from a number of layers of plastic of which the inner surface at least should be polyethylene, each of which may be about 125 microns thick. The outer layer of a multi-layered flexitank is normally a woven type plastic material.

Flexitanks are not an approved form of packaging for the carriage by sea of dangerous goods classified under the International Maritime Dangerous Goods Code. The typical capacity of a flexitank is in the range of 10.000 to 24.000 litres maximum. The weight carried will depend upon the density of the commodity. The permitted gross weight of a container should never be exceeded. However, the current good practice is not to load more than 24.000 kg. of liquid in a 30 metric tonne gross weight rated freight container.

A range of products are carried in flexitanks which included amongst them wine, fruit concentrate, animal fat, fish oil, bare oil, detergents, non-hazardous chemicals, drilling mud additives, paint, lubricants, printing ink, latex and potable water.