Containers (freight)
From Cargo Handbook - the world's largest cargo transport guidelines website
Infobox on Containers (freight)
Example of Containers (freight)

Facts
Origin
-
Stowage factor (in m3/t)
-
Humidity / moisture
-
Ventilation
-
Risk factors
-
Containers (freight)
Description
Containers, freight
An intermodal container (also container, freight container, ISO container, shipping container, hi-cube container, box, conex box and sea can) is a standardized reusable steel box used for the safe, efficient and secure storage and movement of materials and products within a global containerized intermodal freight transport system. "Intermodal" indicates that the container can be moved from one mode of transport to another (from ship, to rail, to truck) without unloading and reloading the contents of the container. There are approximately seventeen million intermodal containers in the world of varying types to suit different cargoes. For air freight the alternative and lighter IATA-defined Unit Load Device is used. Non-container methods of transport include Bulk Cargo, break bulk cargo and tank cars, tank trucks or oil tankers used for liquids or gases.

Container (ISO) standards
There are five common standard lengths, 20-ft (6.1 m), 40-ft (12.2 m), 45-ft (13.7 m), 48-ft (14.6 m), and 53-ft (16.2 m). United States domestic standard containers are generally 48 ft (15 m) and 53-ft (rail and truck). Container capacity is often expressed in twenty-foot equivalent units (TEU, or sometimes teu). An equivalent unit is a measure of containerized cargo capacity equal to one standard 20 ft (length) × 8 ft (width) container. As this is an approximate measure, the height of the box is not considered, for instance the 9 ft 6 in (2.9 m) High cube and the 4-ft 3-in (1.3 m) half height 20 ft (6.1 m) containers are also called one TEU.

The maximum gross mass for a 20 ft (6.1 m) dry cargo container is 24,000 kg, and for a 40-ft (including the 2.87 m (9 ft 6 in) high cube container), it is 30,480 kg. Allowing for the tare mass of the container, the maximum payload mass is therefore reduced to approximately 22,000 kg for 20 ft (6.1 m), and 27,000 kg for 40 ft (12 m) containers.

The original choice of 8 foot height for ISO containers was made in part to suit a large proportion of railway tunnels, though some had to be deepened. With the arrival of even taller containers, further enlargement is proving necessary.

Container coding, identification and marking
ISO 6346 is an international standard covering the coding, identification and marking of intermodal (shipping) containers used within containerized intermodal freight transport. The standard establishes a visual identification system for every container that includes a unique serial number (with check digit), the owner, a country code, a size, type and equipment category as well as any operational marks. The standard is managed by the International Container Bureau (BIC).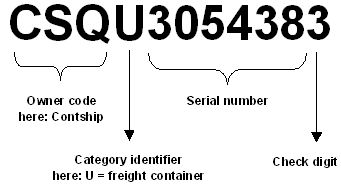 The owner code consists of three capital letters of the Latin alphabet to indicate the owner or principal operator of the container. Such code needs to be registered at the Bureau International des Conteneurs in Paris to ensure uniqueness worldwide.

The equipment category identifier consists of one of the following Four capital letters of the Latin alphabet:


U for all freight containers
J for detachable freight container-related equipment
Z for trailers and chassis
R for reefer containers (cooling containers, mostly with their own refrigeration system)


The serial number consists of 6 (Arabic) numeric digits, assigned by the owner or operator, uniquely identifying the container within that owner/operator's fleet.

The check digit consists of one (Arabic) numeric digit providing a means of validating the recording and transmission accuracies of the owner code and serial number.

CSC-plate
The CSC-approval includes testing, inspection, approval and maintenance of containers.

CSC-approval covers following products :

New Containers by Design Type
Individual Containers
Existing Containers


Approval means the decision by an Administration that a design type or a container is safe within the terms of a present Convention.

This is done by Uniteam in cooperation with established companies as:

Germanischer Lloyd
Det Norske Veritas


Approved containers are marked with a metal plate: "CSC SAFETY APPROVAL"

CSC Certification, examination and control

There are two types of CSC (International Container Safety Convention) examination programmes involving certification, examination and control.

1 - by dated periodic inspection, which is limited to a maximum 30 months between inspections.
2 - ACEP (Approved Continuous Examination Programme)

Item 1 usually applies to the small fleet or single unit owner where they can programme an inspection of their container(s). Item 2 usually applies to large shipping lines that have many thousands of shipping containers in fleet. Having this many in service which at any time may be loaded, empty, inland or on ship would make it very difficult for shipping lines to adhere to a thirty month inspection , so it has been agreed that providing that when resituating their containers in land based depots , whether they are loaded or empty, that these registered contracting parties use only recognised depots where trained staff usually Lloyds approved inspectors ,can examine the containers between uses, the containers can then be included in the Automatic Continuous Examination Programme . These can be identified by an ACEP registration number on the CSC plate. This ACEP registration number cannot be transferred from shipping line to private individual so when purchasing a container ensure it has been surveyed and you have an accompanying certificate from a registered surveyor that it has been surveyed and has passed the criteria required to deem it safe, fit for use.

Whichever system is applicable to a container, the CSC plate is only valid if the container is in good order, if during its normal use it is damaged to the extent it is made unsafe in any way the owner is still responsible and the container can be taken out of service by any authorised agent that may notice such damage. Worse still if the defective container causes damage or injury the owner will need to prove he has taken every precaution to prevent such an incident. It is an offence to knowingly use a defective or un-plated, unexamined shipping container for cargo carrying purposes be it road, rail, sea or air freight.

NB
New Containers have a 5 year period before inspection (for deterioration) is required similar to a New Car and MOT, but it does not mean you do not need to keep in sound safe condition.

Specifications
Weights and dimensions of some common types of containers. Values vary slightly from manufacturer to manufacturer.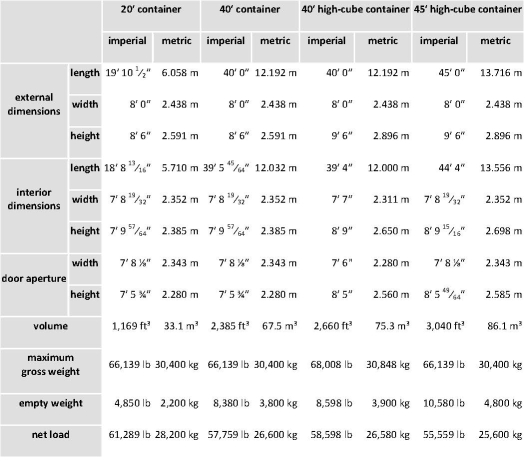 Refurbishment
Refurbishment to containers is often referred to as reconditioning, and vice versa. Whilst there are two distinct operations, interchange of the terms has become so widespread that, in order to avoid confusion, this specification will refer simply to refurbishment. The purpose of refurbishment is to bring a container, as nearly as possible, back to new container condition. While it may not be possible to match 'new container' condition with exactitude, refurbishment is intended to meet international commercial and safety requirements. The goal of a refurbishment process should be to obtain a minimum of four years additional service without further major repairs necessitated by continued deterioration from rust and corrosion. Any component which will not last four years after abrasive blasting and refurbishment should be replaced.
Each container prior to repair attempts should be carefully and thoroughly inspected, following the guidelines laid down in the latest edition of the Institute of International Container Lessors, Ltd. (IICL), 'Guide for Container Equipment Inspection'. The contractor is to determine that the container is suitable for refurbishment. If not, he shall so report to the owner before commencing repair or abrasive blasting.
All containers which cannot be refurbished for full service are to be rejected and reported to the owner. Steel components must be carefully inspected and tested to determine whether the thickness of steel has been reduced below allowable limits as a result of deterioration from rust corrosion, or any other cause. If the original thickness of any component part has been significantly reduced , it should be replaced prior to abrasive blasting. Any component part found to be structurally unsound shall be repaired. No refurbishment shall be undertaken if abrasive blasting will cause extensive damage.


Container carriage:

http://www.gard.no/ikbViewer/Content/134070/Containers%20March%202011.pdf


http://www.swedishclub.com/upload/Loss_Prev_Docs/Cargo/Securing_containers_Letter_1_2008.pdf


http://www.ttclub.com/knowledge-store/article/tt-talk-hazardous-gases-in-containers-3133/